Plumb Time Plumbing and Drain Service has been working hard to provide the best plumbing service possible in the Columbia area for more than two decades. Since we are locally owned and operated our attachment to this area is far more personal, allowing us to provide the entire Columbia area from North to South and East to West with the down home southern style of customer service we all love.
No matter what neighborhood you live in, whether it is Saint Andrews, Pine Valley, Skyland Estates, Congaree Vista, Heathewood, Hampton Hills, Knollwood, Bluff Estates, Rosewood, Kilbourne Park, Gregg Park, East Columbia, Leesburg, East Lake, King's Grant, Southeast Columbia, Strathaven Forest, Bradley, Fairwold Acres, Farrow Hills or any of the other fantastic neighborhoods in Columbia SC Plumb Time is right around the corner.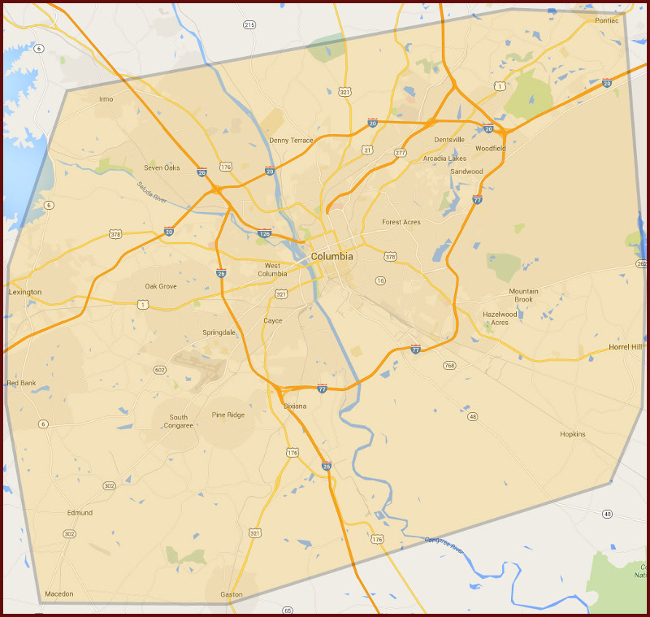 We look forward to serving all of your plumbing and drain service needs. If you don't see the area where you live in the highlighted area of our coverage map please give us a call today so we can see how we can help you.
Serving Downtown Columbia, Northeast Columbia, West Columbia, Southeast Columbia, Cayce, Forest Acres, Dentsville, Springdale, Oak Grove, Denny Terrace, Sandwood, Lexington, Gaston, Pontiac, Hopkins, Dixiana, Seven Oaks, Irmo, Edmund, Red Bank, Macedon, Mountain Brook, Pine Ridge, Pelion, Gilbert, Swansea, Ballentine and the surrounding areas.
We provide our wide array of quality Plumbing, Gas, Drain, and Sewer services to the following zip codes: 29201, 29202, 29203, 29204, 29205, 29206, 29207, 29208, 29209, 29210, 29211, 29214, 29215, 29033, 29169, 29170, 29006, 29666, 29223, 29225
If you are anywhere in and around the Columbia area call Manny & Tanya at Plumb Time Plumbing & Drains today for immediate response to any of your plumbing, drain, gas, sewer, or backflow related issue's.