When discussing plumbing issues which are underrated, unknown or unattended the potential problem of backflow must be at the top of the list for everyone, whether residential or commercial.
Simply put, backflow is water flowing in the reverse direction in a unwanted manner. Some may think this is not a real big deal; however, it could become a very big deal if that backflow is caused by a contaminated source which could cause serious health issues to those who use the water.
A few sources that could have the potential for cross contaminating the water supply are garbage disposals, dishwashers, faucets where a hose can be connected, hose bibs, toilets, hand held shower heads, whirlpool baths, irrigation systems, fish ponds, and swimming pools to name a few.
If you are connected to a City or other type of Municipal water supply they will have backflow preventers in place to protect the water supply up to the point where it enters your home. That is where it becomes your responsibility to annually test for and prevent backflow issues within your home.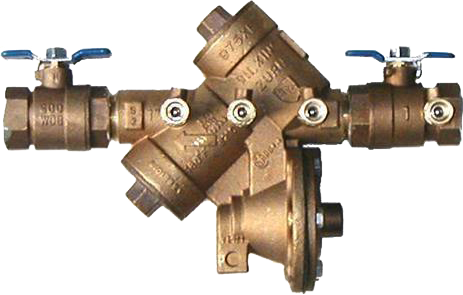 In many places this is not an optional test, which is the case in Columbia, SC. For the health and safety of all the residents of Columbia, SC. it is required that once a year you have a backflow test done on your home or business.
The backflow test must be conducted by a licensed Columbia SC plumber who has been certified by the city or state to do the test. Plumb Time is backflow certified in Columbia, South Carolina and has a great deal of experience performing this type of testing in Columbia and the surrounding areas. Once the test has been completed the Plumber is then required to fill out the 'Field Test Report' and submit it to the city. It is a frequent misunderstanding about who is responsible for the cost of this testing, many believe it is covered under their water bill. This is unfortantely not the case, the individual home owner or business owner are responsible and must have a test done annually.
Your health and safety, as well as the health and safety of your family and pets, are very important to us so call us today and we can set up a time that works best for you to have a backflow test done on your home or business.